Your wedding day is certainly a special day in your lifetime. It's a signature event to celebrate love and to remember with appreciation. In the coming years, as you look back on the day, it will certainly trigger a cascade of beautiful emotions associated with it.
From the décor and catering to the wedding dress, everything has to be on point for the big day. Above every single thing at a wedding,  the spotlight  is definitely on the bride and groom!
Their outfit is the centerpiece of a wedding and surely they need a plan for every single complement of it. One of the most special wedding accessories is the bridal headpiece. It serves as a way to personalize and elevate the wedding look.
In this article, we will guide you on choosing the very best one.
FIRST OF ALL, MATCHING YOUR BRIDAL HEADPIECE WITH THE WEDDING DRESS
One question that will help you simplify your decision is to ask yourself "what bridal headpiece can complement your wedding dress in the best way" There are several things to consider: the style of the dress (is it simple/elegant or a more elaborate busy dress), the fabric combinations (silk, tulle, taffeta, lace), and additional embellishments (such as pearls, crystals, gold accents etc.) Knowing all these details, will help you decide what type of bridal headpiece to wear. For example, if your dress is simple, you might want to use a statement bridal headpiece for a wow factor.
On the other hand, if your wedding dress is more elaborate, the ideal is to wear a simple yet elegant headpiece to complement your look, such as our Genesis Crystal Headband (click here to view product)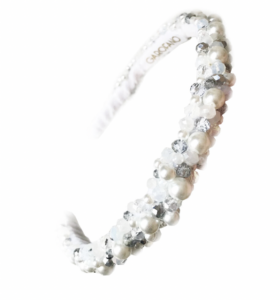 If your dress has special embellishments, a great idea is to also add them to your bridal headpiece. This will make your dress match perfectly with your hair accessory.
If you don't find an existing piece to go with your dress, at GAROFANO, we can customize it for you! Share images of your dress and we´ll make a perfect match!
YOUR WEDDING HAIRSTYLE:
Your hairstyle is also very important when choosing a wedding hair accessory. You can add a bridal headpiece to your look, regardless of the hairstyle you find most flattering. For example, if your chosen hairstyle is a braided crown, you can add a side piece that follows the line of the braid.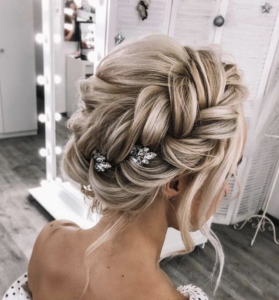 On the other hand, if you want to go for a more beach wave look, a side sweep, or a  ponytail, a front piece such as our Juliette Crystal Headband  (click here to view product), is perfect to accentuate your face.
For sure, your hairdresser will find a way to make a perfect match between your hairstyle and bridal headpiece. Talk in advance with them. Do try outs before the wedding day to make sure which style suits you the most.
WEDDING VIBE
Certainly, this is key to determine which bridal look goes better with the wedding atmosphere. Take the venue into consideration to make your decision. If the venue is outdoors with a boho-chic vibe, you could incorporate flowers to your bridal headpiece. This choice will run smoothly with the décor and mood of the event. Here at GAROFANO, we have this beautiful option perfect for this type of wedding (click here to view product)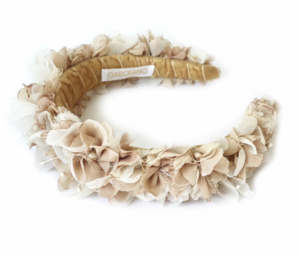 If the wedding is an elegant ball party, select something that is more fancy and sophisticated such as a headband covered in crystals or a statement crown, like GAROFANO'S Cristina Crystal headband (click here to view product)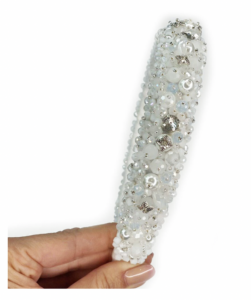 TIP!!
Remember, your bridal headpiece must be comfortable on your head. Make sure you buy something of high quality that attaches perfectly to your hairstyle. At GAROFANO, our bridal headpieces are crafted by hand using the best materials in the market, such as Italian velvet and Czech beads. We assure you can dance during the whole night without any worry of being uncomfortable. Our pieces are everlasting, so keep in mind you can use them on other special occasions.
Your hair accessories accentuate the most significant part of your body: your face! Therefore, you must make sure it defines your personality. Adding a bridal headpiece to your look is definitely an enriching experience. It will make you feel confident, empowered and like a true royal.