Are you hammering out the details of your upcoming wedding? Then you've probably already realized that there are many of them — an overwhelming amount, even. From the centerpieces to the wedding cake, lots of choices must be made before you can get down that aisle. One of the most important, perhaps, is what type of flowers you'll forever associate with your wedding day. And if you're interested in an eco-friendly alternative to freshly cut flowers, consider silk flower bouquets. Faux blooms have recently increased in popularity not just because they're a more sustainable choice, but also because they offer more flexibility and consistent quality.
Silk flower bouquets offer brides and grooms advantages that cannot be found in fresh flowers. Here we name a few:
SUSTAINABILITY:
With so many options out there for floral arrangements, you certainly have an endless array of choices for your big day. But when you choose silk flowers, you cut down on the waste of freshly cut blooms.
Because faux flowers don't have a shelf life, they can be boxed up and placed on ships, which produce far fewer emissions than airplanes. Reusability is an important factor in living sustainably, and it's pretty obvious that faux flowers are a clear winner in this category. The longer you use your artificial arrangements in lieu of live plants, the more positive impact they will have on your well-being and the reduction of your carbon footprint.
CONVENIENCE
With fake flowers, a bride has the liberty of having what she wants when she wants it and where she needs it. She will never incur a premium if her favorite flowers are out of season. When a bride gives her designer enough time, she can get her exact dream bouquet. Her flowers are shipped anywhere in the world, and she can travel back home with them stress-free, its perfect for destination weddings! You can just pop them in your suitcase and take them with you! At GAROFANO our packages are developed in a way that can be easily transported and folded comfortably for future use.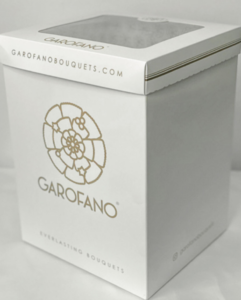 EVERLASTING
One of the main advantages to choosing a silk flower bouquet is that it can be kept as a reminder of the day, it's a lovely keepsake. Something that can be passed on through generations and that becomes a symbol of love and heritage. It reflects the love and value of the moment.
CUSTOMIZATION
Your silk flower bouquet can be customized to be exactly how you want it. Pull inspiration from your wedding theme, venue, wedding songs, color palette, or wedding cake to bring your bouquet to life. Tell your wedding advisor what you are looking for, or if you are not sure, let the floral artist help you find a bridal style and create a bouquet that matches your wedding style. By choosing from a variety of shapes, colors, laces, jewelry and more, you will get a custom bouquet especially designed for you. At GAROFANO, you can add special family heritage symbols such as brooches, lockets and anything that is of value to you. The process of customizing your wedding bouquet becomes something beautiful given the opportunity of crafting it with our floral artist from zero.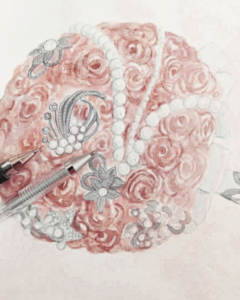 ALLERGY FREE
If the groom or bride loves fresh flowers but is allergic to scents or pollens, they can still have a real looking bouquet without a possible allergic reaction.
QUALITY
Luckily faux-florals are looking more and more real all the time. Gone are the days of trying to find a fake flower that didn't just look like plastic. From roses to gardenias, there are countless iterations of hyperrealistic fake flowers that are available for your wedding bouquet. At GAROFANO, all faux flowers are handcrafted using the best materials in the market, making them durable through time. We design different kinds of flowers inspired by mother nature and its beautiful creations. To decorate each piece, we can add rhinestones, crystals, pearls, beads, all of the best European providers.
REPURPOSE
Repurpose your floral arrangements and live with the memory of life's special events forever. After the wedding, take apart your wedding bouquet and create a beautiful garland for your dining room table, or incorporate them into a wreath for your door. You can even just place your bouquet in a vase and you now have a beautiful new centerpiece. Continue to use your silk flowers throughout your home in new and interesting ways, creating new memories as you go.
In a nutshell, here is a quick list of the benefits regarding
• You can precisely colour-match artificial flowers to any shade so they can work with your colour palette
• They don't attract wasps or bugs so you don't need to worry if you're having an outdoor wedding
• You can get the flower varieties that you want, even if they're out of season, and they'll always be in peak bloom
• Artificial wedding flowers won't wilt or die so they'll look perfect on the day
• There's a risk that real flowers could stain your dress, whereas artificial flowers won't
• Artificial flowers travel well, so they are ideal for destination weddings
• Artificial flowers will last forever so the bride can have a lasting memento of her day."
Your bridal bouquet will be the heart of your flower arrangements. It will be with you in most of your wedding photos and is one of the memorable finishing touches to your wedding outfit. Here at GAROFANO, we have a wealth of experience in creating beautiful flower arrangements and silk flower bouquets for weddings. We have a varied collection to choose from in our website, all of which we can customized, replacing specific flowers, using different ribbons or colors and if you still can't find exactly what you are looking for, we are more than happy to design something extra special and bespoke just for you.
The notion of luxury is undoubtedly transforming. It is not about creating for creating, buying unnecessary things … but creations for which you feel grateful and happy to have. Pieces that represent an act of contribution rather than consumption. This is why silk flower bouquets represent an ideal way to contribute back to the Earth. Click here.